It is currently Tue Feb 07, 2023 3:52 pm • All times are UTC - 5 hours
Moderator: [Sim] Mercury - Hosts
Tomorrow marks our fifth anniversary as an active sim! Even though we're not as active here, I have to brag!
My real name is Stephan. Y'all can call me that OOC.
Manheim Fleet Captain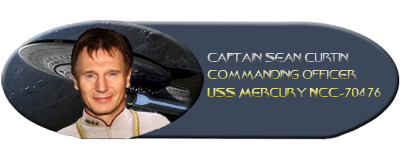 "I would be happy to have a
Star Trek
come on in 15 or 20 years where people say, 'Now that is good! That makes Roddenberry look like nothing!' And that would please me!"
- Gene Roddenberry, 1989
Cadet 4th Year

Posts: 66
Joined: Mon Dec 22, 2008 12:00 pm
---
Who is online
Users browsing this forum: No registered users and 1 guest